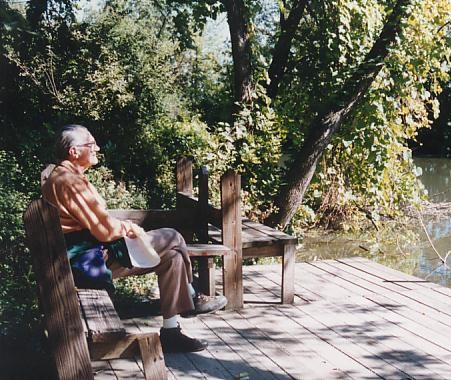 In this unprecedented (in our lifetime) pandemic-driven retreat into home sheltering, moments of reflection come and invite me in. It's like a dollop of opportunity for life review, but hardly a linear process. It's more like smatterings and brief meaningful flashbacks. I came across a photo of my dear father-in-law, Papa John, in quiet stillness; he was in his early 90s, and I wonder what he was pondering. This photo was taken about 10 years ago, before any of us imagined daily life with face masks, frequent hand washing, and social isolation.
John had the ability to take each moment in a childlike spirit of wonder, and his gentle stoicism made him impervious to stormy emotional drama while quietly remaining present to those in its throes. As long as I knew him, he met ups and downs philosophically. If he were still alive, he would have taken advantage of enforced retreat to make lemonade out of viral lemons. "Hug These Days" is dedicated to him and the wisdom he left behind.
With what amazing grace we each appear
A gift, a star, a seedling to behold.
Our charms, our quirks, our inner life unclear
When we are just a precious hour old.
In childhood sweet magic sparked our days
And added unexpected talents bright.
With age we stepped more complicated ways
Toward pitfall, challenge, maybe fright.
As promise soft we come into the world,
Yet circumstances temper us like steel.
Each life is like a banner full unfurled.
Embrace these days, review all they reveal.
© 2020 by Karen Barrie